Did You Know? The Meydan Hotel
---
Tour the Meydan Stables at The Meydan Hotel and meet the Thoroughbred stars of racing.
Experience a side of world-class horseracing you never usually see with an exclusive behind-the-scenes
tour of the Meydan Stables. Every Tuesday & Wednesday morning, start the tour at The Meydan Hotel
with a five-star buffet-style breakfast at Farriers Restaurant and watch the racehorses during morning
Trackwork. Take a personal tour of the stables where these horses are groomed and conditioned and learn
how they are trained and prepared for raceday. See horses exercise in the equine swimming pool.
Go behind-the-scenes at the Meydan Grandstand, and gain exclusive access to the Jockeys' Room,
Saddling Paddock and Parade Ring.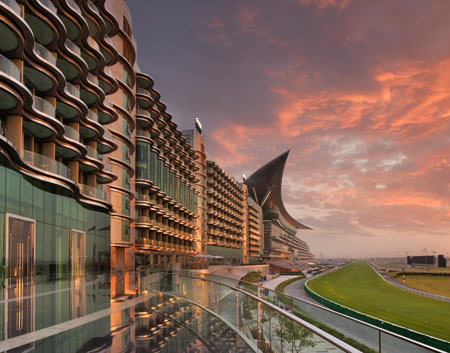 Book a stay at The Meydan Hotel >>
---