Cave Luxury in Cappadocia
---
Located in the heart of Cappadocia on the site of an ancient monastery in Old Uchisar Village, Argos in Cappadocia has carefully restored the remains of historical dwellings, underground tunnels, and caves to offer guests an unsurpassed place to stay that has a unique perspective from which to view the region. Guest rooms and suites spread among six mansions.
Uchisar boasts panoramic views of the Cappadocia plateau and looks out over the natural fortresses of Bashisar and Ortahisar. Spread out along Pigeon Valley (Guvercinlik Vadisi), its foothills feature charming houses and sprawling mansions connected by underground tunnels, of churches, monasteries, and freshwater springs.
Highlight: Splendid Suite
Built into the caves, Splendid Suite's all include a private plunge pool in addition to a view of the garden. The sitting area located under a gigantic arch has its own garden and terrace. These accommodations are half stone and half carved into living rock, they offer separated bedroom and living areas so that, if you want, you can lounge in the pool on the bottom floor or spend your time looking at the enchanting view from the terrace of your room - where you can look out over Pigeon Valley and gaze upon Mt. Erciyes as you sip a drink.
Check rates and availability at Argos in Cappadocia >>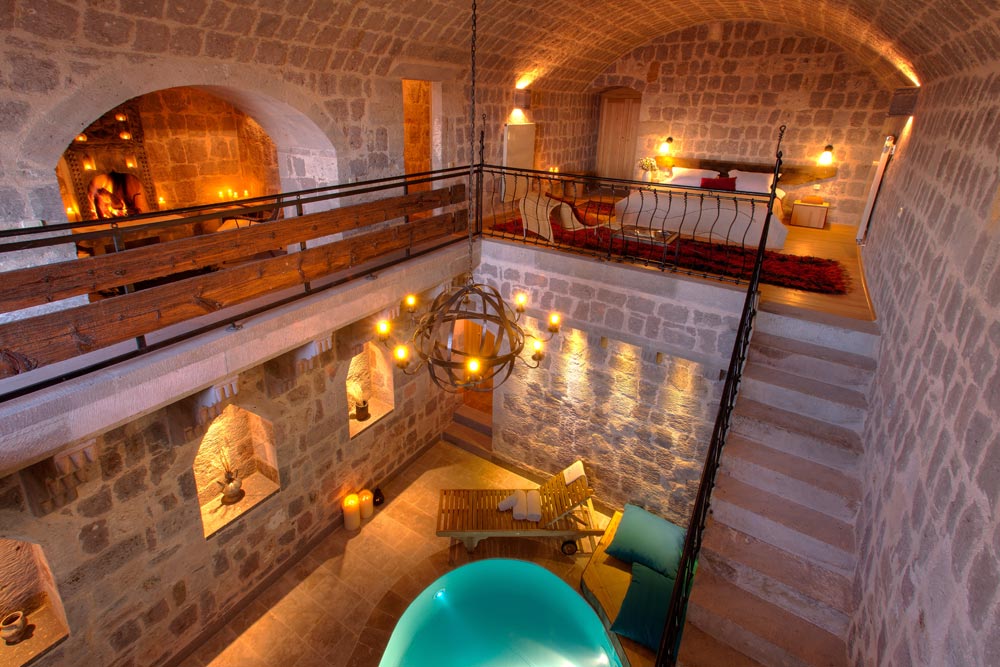 ---

Related Hotels