Willard Intercontinental I Spa: Best Washington DC Spas
---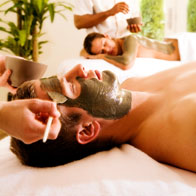 Tucked away on the 2nd floor of the Willard InterContinental, Washington's historic luxury hotel, the I Spa offers guests a rejuvenating and luxurious spa experience. The full spa menu features 25 treatments, including both traditional and specialized massage (try the Willard Chardonnay Massage or Hot Stone Massage) and body treatments using products designed by Jurlique, Algotherm and June Jacobs. But this isn't just the preferred pampering place for bridal parties and couples on lingering weekend afternoons. Thanks to the Express Menu, lucky guests can enjoy a quick revitalizing treatment when they need it most: midweek, between the stress of meetings and a long commute.
As recently featured on Daily Candy, the Express Menu offers the best kind of pick-me-up for those with limited time to spare:
...thanks to The I Spa, which now offers an express menu. In just 30 minutes you can rejuvenate with an exfoliating microdermabrasion facial, firm up with a collagen and elastin eye mask, or loosen tight muscles with a good old Swedish massage. You'll even get to squeeze in a quick spa lunch in the VIP suite before rushing off.
What a relief.
---