Where Will Virgin Hotels Open Its First Property?
---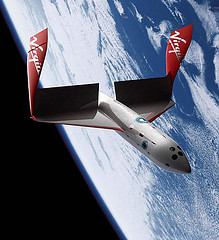 "Fancy getting into bed with Virgin?"
taunts the official website for Virgin Hotels.
Our reply: "Hell yeah! When and where will the first Virgin Hotel open?" There's been lots of talk about the latest venture from Sir Richard Branson.
And as Bloomberg reports
, the Virgin Group Ltd. plans to spend $500 million with its latest launch: a four-star chain of hotels called Virgin Hotels. Catering to "high income, well-educated, metropolitan 'creative class' customers," the new company is looking for hotel sites in North American cities like NYC, San Fran, Miami, Boson, and LA-LA land before expanding internationally.
The South Florida Business Journal explains
that Virgin "wants to acquire hotels, partner with existing hotel owners or act as a third-party manager" for "150- to 400-room urban properties that can be transformed to four-star hotels."
Pictured: Virgin Galactic's tourist spaceship for cruising outer space in style...
---