What's New in Scottsdale: Introducing The Tower at Hotel Valley Ho
---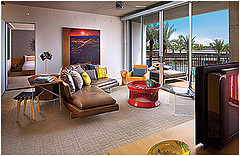 Scottsdale's hip mid-century landmark-- the original hide-away for Bogart, Bing and Marilyn-- just got a new addition.
Hotel Valley Ho
recently opened
The Tower
, an elite boutique hotel soaring above this urban resort. The ultimate luxury experience, complete with personal shopper and private chef service, can be yours at
The Tower
. In the guest rooms, floor-to-ceiling glass windows provide sweeping panoramic views. Other room highlights include a custom-swivel plasma-screen TV, 1950s-design chairs, stainless steel hardware, a fully-equipped kitchen, and dazzling bright-yellow cabinets. Plus there's an entertainment system with an iPod satellite and free Wifi. Every guest is afforded VIP status; you'll get a management escort to your room for check-in without ever stopping at the front desk.
---