What's Hot: The Stoneleigh Hotel Re-Opens in Dallas
---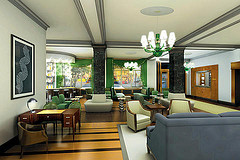 The media's been abuzz since
The Stoneleigh Hotel and Spa
recently debuted in Dallas after a $36 million, 14-month renovation. First opened in 1923, The Stoneleigh-- once the tallest hotel west of the Mississippi-- is listed on the National Trust for Historic Preservation's "Historic Hotels of America." Back in the day, The Stoneleigh was a society hotspot for Hollywood A-listers and played host to celebs like Judy Garland, Frank Lloyd Wright, Andy Warhol and Elvis Presley. And management is hoping that the "Hotel to the Stars" will now enter a second age of splendor. New amenities include a full-service spa,
Bolla
restaurant (featuring Modern Italian cuisine prepared by Chef David Bull, an Iron Chef Challenger and 2007 James Beard nominee for "Best Chef in the Southwest"), dramatic Penthouse suites and
The Heritage
, an adjacent luxury high-rise with custom homes. Designed by ForrestPerkins, the sumptuous new interiors are all about the 1930s-era Art Deco glamour. The restoration left original historic details intact (like the 300-year old wood-paneling in the "Grape Room"), and the hotel now features a collection of artwork honoring Texas' best artists. Nota bene: the hotel's nine "Tribute Suites" are named for famous guests like Elvis and Judy Garland.
---