What's Hot: The Bowery Hotel, New York
---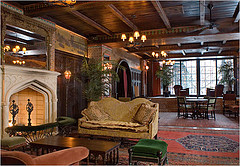 Opulent and très cool,
The Bowery Hotel
is the latest luxury hotel on the block, located between the East Village and NoHo in Manhattan. The décor is positively fabulous (check out the photo). As described by
NYT Travel
:
The latest venture from Eric Goode and Sean MacPherson, who created the Maritime Hotel and numerous boîtes, the hotel evokes the Gilded Age of red waistcoats, hand-set bricks and wood-paneled elevators. And the views from the upper floors are positively grand. So what if you might have to step over a few vestigial bums to get there?
HotelChatter's been tracking this baby for months. For the inside scoop, including behind-the-scenes photos snapped before the opening, check out the articles here. Opening rates are a good deal-- at $375 per night.
Related Articles:
HotelChatter, The Bowery Hotel
New York Times, Check In, Check Out: New York: The Bowery Hotel
---