What's Hot in Las Vegas: Payard Patisserie and Bistro, Caesars Palace
---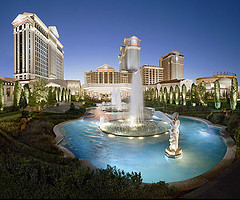 Since its opening at the end of November, the
Payard Pâtisserie & Bistro
has been the talk of Las Vegas. The mastermind behind this new hotspot is the world's foremost
chocolatier
, François Payard, recognized year after year with prestigious awards from the French Government,
Bon Appetit
, and
Wine Spectator
. The third-generation French pastry chef has worked at many Michelin-starred restaurants, including NY's legendary
Le Bernardin
. With his new
pâtisserie
, Payard brings a little piece of Paris' Left Bank to the Strip. Located adjacent to
Rao's
at
Caesars Palace
, the restaurant offers classic French bistro fare and fresh pastries for breakfast and lunch, while the dinner features a four-course all-dessert tasting menu. And for those on-the-go, there's a retail area where you can purchase chocolates, candies, pastries, and coffee. Taste connoisseurs will be dazzled by the evening tasting menu, where you can choose from four distinct categories:
Le Fromage, The Orchard, Coffee, Caramel and Nuts
, and
Tout Chocolat
. Chocoholics will rejoice with the
Tout Chocolat
menu; the ingredient is served up in a variety of ways: warm chocolate tart with cocoa nibs tuille and gianduja ice cream; devil's food cake with cardamom
pot de crème
, chocolate pudding and whipped
crème fraîche
.
---