Washington D.C.'s Madison, A Loews Hotel, Offers Lincoln Bedroom to Guests
---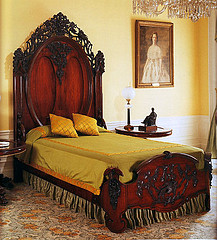 You can stay in a replica of Lincoln's bedroom in Washington D.C., and even take home a nifty
t-shirt
towel set to show to all your friends. (The keepsake towels are personalized with "I slept in The Lincoln Bedroom" with the Loews Madison hotel logo.)
The Madison
has decided to commemorate Lincoln's bicentennial by styling a version of the Lincoln Bedroom, replete with a
rocking chair, bed with decorative headboard
, and other nods to the prez's illustrious past. One of the capital's most distinguished hotels,
The Madison
has hosted its share of presidents. And with the country just getting over inauguration fever, your family may feel inspired to explore Washington D.C. and celebrate presidents past and present with a stay in the Madison's Lincoln bedroom.
The package
includes luxurious accommodations, the keepsake towels (mentioned above), a copy of the Gettysburg Address, Doris Kearns Goodwin's "Team of Rivals: The Political Genius of Abraham Lincoln," breakfast in bed for two, and two passes to Madame Tussauds DC to see President Lincoln sitting in his box at Fords Theatre.
---