Vancouver's Ritz-Carlton Gets Axed
---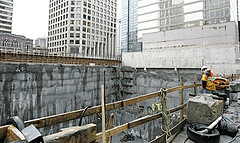 In a sign of the times, the $500 million project in downtown Vancouver-- combining a Ritz-Carlton Hotel with 40 floors of condo units-- is no more. All that's left? A gaping concrete pit that was to be the underground parking garage.
The Globe and Mail has the scoop:
The hole on West Georgia Street, surrounded by hoardings and ignored by most passersby, is a stark symbol of the end of billions of dollars' worth of spending plans blown apart by shifting trends in finance, construction and travel... And in being shelved, the hotel becomes part of what amounts to a nationwide spending freeze. In its key annual survey of what businesses and governments plan to do with their money, Statistics Canada yesterday said total investment in non-residential construction, machinery and equipment is expected to fall to $237.5-billion in 2009, down 6.6 per cent from 2008.
---