Vamping in Vegas: Rumor's New Mega-Suites Now Taking Reservations
---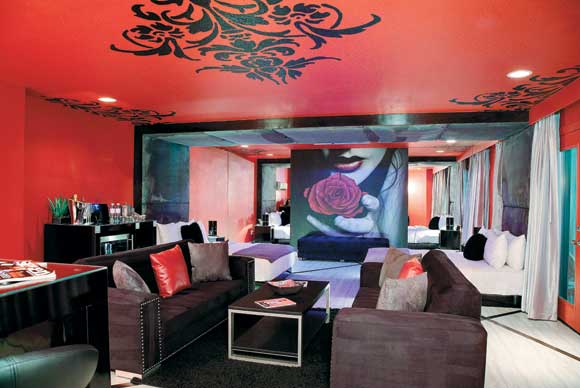 People head to Vegas to recoup with revelry, dividing their time between nightclubs, restaurants and casinos, steeping in neon lights, sequins and the tinny cascade of slot-machine coins—it can be exhausting. Lucky for revelers everywhere,
Rumor
, the boutique resort, has just opened four mega-suites, each boasting a different (yet equally over-the-top) personality.
Formally the rather dilapidated St. Tropez Hotel, The Siegel Group spent $4 million converting the property into a 150 all-suite resort, which opened this past July. Designed by a collaboration with Mark Tracy of Chemical Spaces, the suites are well worth the wait, offering four chromatic visions for the wearied carouser.
Each suite boasts 1,000-square feet of sexy eccentricity, facing into Rumor's signature courtyard, dotted with swaying palms and pools. The first floor suites open up onto the patio, mere steps from the pool, while the second floor suites feature French doors leading onto an oversized balcony.
The swinger mega-suite celebrates a sensual yet masculine palette of grays, blacks and pewters with mirrored stripes darting across the walls and ceiling like silver lightening. Adding a sliver of scandal is a California-king bed on a small stage with footlights and two provocative murals—one in the bedroom featuring a woman unlacing a white corset and one in the bathroom with a woman in her slender skivvies.
Furthering the masculine vibe is the camouflage mega-suite which features floor-to-ceiling blue camouflage layered with barren black trees branching into slender twigs. Another female mural, this time with haunting blue eyes and hair is the featured image, serving as an ideal foil for the powder-blue sofas and the grey-tiled floors.
The Diva mega-suite is a feminine and flirty fantasy, striped with pink mirrors, pink walls and a reclining pink woman mural, coquettishly demure. Two sets of purple and (you guessed it) pink lips also lock on the bathroom wall for a sexy pre and post-shower visual.
A darker incarnation of the playfully pink Diva suite, the Gossip mega-suite features blood-red walls with black floral graphics and the mural shows a ruby-lipped woman offering the guest a rose blossom. Only in this suite will guests find two queen beds, offsetting the merlot-colored walls with bright white sheets and black and silver throw pillows.
Guests won't have to keep the partying in the bedroom either — they can invite it right into the bath. Every suite features an "ultra-lounge/party bathroom" boasting a 10-person open shower with two rain showerheads and a lush u-shaped couch so revelers can relax or get rowdy with a crew of cronies.
While it may be tempting to tuck oneself away in the one of the four sultry suites, guests should be sure to at least head downstairs to check out Addiction, Rumor's neo-American restaurant boasting equally provocative and modern décor, decorated in contrasting shades of charcoal, purple and gray with touches of industrial chic like chain-mail curtains. Helmed by tattooed chef Vic Vegas, Addiction also features a private dining room for 14, offering a high communal table and long, dripping chandeliers.
---