Vail Resorts Goes Green with 100 Percent Wind Power
---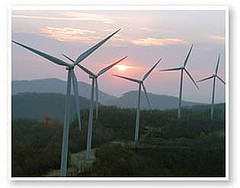 Ski with the wind! Vail Resorts announced on Tuesday that it is switching to wind power. By purchasing 152,000 megawatt-hours of wind energy, Vail Resorts will offset 100 percent of its company-wide energy use. According to the New York Times:
The announcement makes Vail the second-largest corporate buyer of wind energy in the nation, according to the Environmental Protection Agency, after Whole Foods Market Inc., the big supermarket chain that went to all wind power earlier this year.
Vail Resorts will buy their wind power credits from a Boulder company called Renewable Choice Energy. Vail is leading the pack in bringing alternative energy to the mainstream. Other resorts, like the Aspen Skiing Company, are following suit. And with global warming threatening to reduce much of the mountain snowpack in the West, this is excellent news.
---

Related Hotels