Top Chef Checks Into The PGA National Resort & Spa
---
Eric Ripert, celebrity chef and judge on this season's Top Chef – Washington, DC, currently airing on Bravo, said it best when speaking about contestant Kenny Gilbert of PGA National Resort & Spa in Palm Beach Gardens, Florida.  "I love garlic, and I use it a lot."  Wait, hold on, that's not the quote I'm looking for.  Wasn't there one about Kenny, and how brilliant he is…?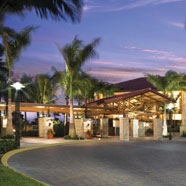 I'll keep searching, but this might be a time where, and pardon the cliche, the food speaks for itself.  Yes, Kenny Gilbert… IS… THAT… GOOD!
And he's proven it, week after week, on the latest season of Top Chef.
Yet if those dazzling concoctions that you see every week don't draw you into the culinary master world of Kenny Gilbert, than perhaps his long history as an outstanding chef will.  At only 23 years of age, Gilbert became the youngest African-American chef to ever run a Ritz-Carlton hotel restaurant, and he just keeps getting better.
Now in his mid-30s (peak years for chefs), Kenny Gilbert is mesmerizing diners everyday as the Executive Chef at the PGA National Resort & Spa.  The food is so good that patrons are forgetting that the PGA National Resort & Spa. is most famous for award-winning golf on a luxurious setting.  Heck, you'll even be forgiven if you only shoot nine holes so you can have more time for dinner.
But don't take my word for it… What does Eric Ripert have to say about Kenny's food?  "For us, it's the grand slam!"  Thanks, chef.  That's more like it!
---