Tipping is Not Necessary at the Elysian Hotel Chicago
---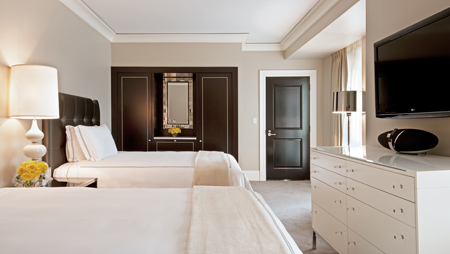 Another reason the new
Elysian Hotel
is making waves in the hotel industry... The luxurious Gold Coast hot spot-- home to a swanky spa and destination restaurant-- is shaking things up with a "no tips necessary" policy. Designed to eliminate the hassle for guests, the policy is based on the fact that employees are hired as "ambassadors" with a higher pay scale, not dependent on tips.
Here's the report from the USA Today Hotel Check-In blog
:
As a longtime customer of luxury hotels, hotel developer David Pisor grew to dislike the pressure and hassle of tipping, whether a $5 for the valet who retrieved his car, a $10 for the bellman who took his luggage and $5 for the concierge who recommended a restaurant.

So when Pisor recently opened the 188-room, luxury Elysian Hotel in Chicago - half a block away from rival Four Seasons, he adopted a no-tipping-necessary policy. (The cheapest rooms at Elysian start at around $350 per night.)

"I don't want to hear, 'Do you need a hand, sir?'," Pisor told me the other day in an interview. "I don't think it's luxurious. I think it's incredibly not luxurious. You're thinking about it the whole time as opposed to just enjoying yourself."
---