Tiger Tracks: Las Vegas Hotels
---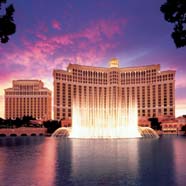 Interested in where Tiger Woods chooses to stay in Las Vegas? I know I am. In fact, two hotels have recently been identified as alleged spots for the world's most famous golfer and athlete of the decade, Tiger Woods. And if the rumors are true, Tiger is a man of luxurious taste.
The Bellagio Hotel & Casino certainly offers upscale accommodations, with many plush rooms to go along with its many pools and other romantic corners. In fact, the Bellagio has long been a premier Vegas hotspot, and with those fountains bursting into the air with such force and energy, you'll certainly savor all that the Bellagio has to offer.
Another glamor location that keeps coming up is the opulent MGM Grand. This monster of a complex actually has several outfits within it, including the luxurious boutique style offerings at the SKYLOFTS at MGM Grand. The SKYLOFTS offer private luxury for only the most discerning traveler. And with a location on the very tip of the large MGM Grand, all of your dreams will come to life.
---