This Just In: Starwood Slashes Rates, Get 50 Percent Off Your Second Night at Le Meridien, W, St. Regis and Westin
---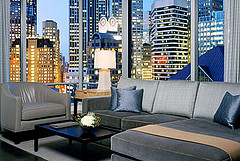 This is almost too good to be true.
Starwood just launched a promotion called "Better Tomorrows"
wherein you get a second night at 50 percent off at hotel properties through March 31, 2009. This includes the swanky
St. Regis San Francisco
, pictured at right, easily the finest offering in the City by the Bay.
---