The Sofitel Philadelphia: The Washington Post Finds French Flavor in Philly
---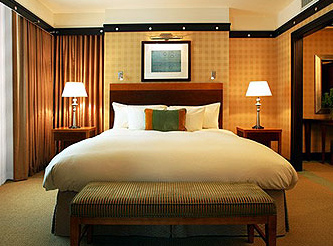 Looking for digs in the City of Brotherly Love? Why not check out the
Sofitel Philadelphia
,
recently reviewed in The Washington Post's "Bed Check" column
. The author describes "a certain je ne sais quoi" washing over her when she entered her room, conjuring a room she'd once stayed in while in Paris:
There was definitely elegance (and a hint of Japanese influence) in the room's wood accents, the wood-paneled wall behind the bed, the Frank Lloyd-Wright style French doors to the bathroom. And the bathroom: Granite and marble-look perfection. Commodious. A bamboo shoot in a slender vase lending that touch of class. Huge floor-to-ceiling mirror (knowing the importance of a good mirror - now that's French).

"Sure like that bathroom," my husband declared more than once. He was as taken with it as I was with the bed. That would be the SoBed: all hypoallergenic, with a featherbed atop the mattress and a fabulous poufy duvet (changed for each guest!) to snuggle under in the (spectacularly silent) air-conditioning. A bed to "remind you that the perfect sleep exists," read the room literature, and it was true. I not only slept like a baby, I dreamed I was. . . in Europe. Honestly.
Hot rates are available this fall from $167.50 when you book with Five Star Alliance.
---