The Sky Lodge Shakes Things Up In Park City, Utah
---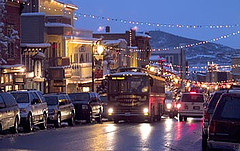 There's a new luxury hotel on the block. Now the faithful who make the pilgrimage to the Sundance Film Festival every year have another swanky option.
The Sky Lodge
will debut on December 26, 2007 and is set to become the hottest thing west of the Mississippi. The tagline?
Soho meets the mountains.
The experience here goes far beyond 400-thread-count sheets and the usual high-tech gadgetry (like multiple flat panel HDTV and Bose surround sound systems with iPod cradles). They're aiming to create over-the-top indulgence in every aspect of the resort. Located in the heart of historic Old Town at the corner of Main Street and Heber Avenue, The Sky Lodge exudes luxury in the details: fire pits in the lounge, private cedar hot tubs, trendy restaurants, tranquil Japanese-influenced spa, complimentary cocktails and nibbles served nightly in the Sky Club...
The Sky Lodge's philosophy?
YouCentricity.
---