The Skinny on Five Star and Five Diamond Hotel Ratings
---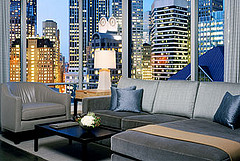 Ever wondered how certain hotels bag five stars (or five AAA diamonds)? What it takes to be the very best in hospitality? (AAA will be announcing its 2009 five diamond winners on Friday and we're waiting with bated breath.)
The Richmond Times-Dispatch breaks it down for us. Selection criteria varies for Mobil and AAA:
Mobil inspections

The Mobil Travel Guide evaluation for fourand five-star rankings for lodging is based on a three-day, two-night stay. The incognito inspector considers: Reservations, Arrival, Departure, Communications (PBX operator), Room service for dinner, Breakfast service in restaurant, Bar or lounge service, Daily housekeeping, Housekeeping request and turndown service, Laundry service, Business center (if applicable), Guest services/concierge (by phone and in-person), Guest room conditions, Public area conditions, Fitness room (if applicable), Pool/beach service (if applicable)

Rating hotels by AAA

AAA evaluates up to 300 elements related to physical attributes and as many as 300 that relate to customer service. Some elements included in a five-diamond rating:

-The hotel must have elegant style with luxurious, unique and artistic appointments.

-An elegant and extensive variety of landscaping with meticulous attention to detail in placement and care.

-Exercise room must have 10 or more pieces of state-of-the-art equipment with a luxurious health-club environment.

-Guest rooms must be elegant in style with luxurious, unique and artistic appointments.

-Bedding must include 300-thread count and higher bed linens of Egyptian cotton, satin, silk or a similar fabric.

-Rooms must have two robes and two pairs of slippers.

-Rooms must have an in-room comfort menu providing exercise, spa, butler or other personalized service.

-Reservationist provides a warm and sincere thank you to the guest for calling.

-Room service is available 24/7.

-Room service is delivered within five minutes of the time promised.
Pictured at right: The St. Regis Hotel San Francisco, awarded five Michelin stars for 2008.
---