The Search for the Obama Family Dog: Presidential Pooch at Loews Hotels
---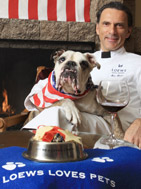 Labradoodle or Portuguese water hound?
No matter the Obama family's choice,
Loews Hotels
has decided that all breeds are in the running for "First Pooch." Inspired by the Obama family's search for a new puppy,
Loews Hotels
is offering an "indoguration" for all with the "Presidential Pooch" package, available for the first 100 days of the Obama administration, January 20 through April 29, 2009. Beloved for providing a unique and luxurious experience for guests,
Loews Hotels
has acquired a devoted following also due to its pet-friendly policy. Check into
Loews Hotel Vogue
in the heart of Montreal, and discover the city's legendary joie de vivre and epicurean pleasures. Fido will be just as delighted. The "Presidential Pooch" package includes a special "Stars and Stripes" room service meal for pups, along with a patriotic-themed bandana for dogs to wear home.
---