The Return of the Knickerbocker Hotel in Times Square, New York
---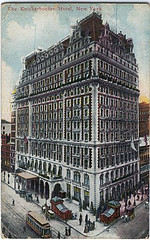 Hot off the press! The classic New York landmark that sits at 6 Times Square has just been sold to Istithmar Hotels, an investment arm of the royal family of Dubai, for $300 million-- to be restored to its former glory as a five-star hotel. The original Knickerbocker Hotel was built between 1901 and 1906 for John Jacob Astor IV, a luxurious hot spot for celebrities in the heart of Manhattan. As described by the Hartford Courant:
The one-time Knickerbocker hotel in Times Square has an illustrious history: Enrico Caruso sang from its balcony; Maxfield Parrish's 30-foot-long painting "Old King Cole" hung in its barroom; and the martini is believed to have been invented there. Now the beaux-arts-style Knickerbocker, long since converted into apartments and textile showrooms, may become a hotel again.
Once known as the Newsweek Building when it housed the magazine's offices, the Knickerbocker hotel's building is also known to be the place where the famous gang leader, Monk Eastman, was captured by police while having a shoot-out with a Pinkerton detective. In its heyday, the Knickerbocker hotel boasted 556 rooms, a phenomenal restaurant-bar, and its own subway entrance. (The mysterious locked door is still visible at the northern end of the platform at Times Square subway station.) No wonder the city's elite flocked there.
Related Articles:
The Morning News, "The Knickerbocker"
---

Related Hotels