The Restaurant at the Setai, South Beach
---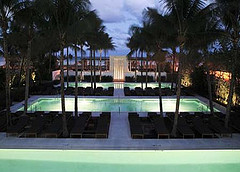 At the Restaurant at the
Setai
, trans-ethnic cuisine is crafted from the finest, freshest ingredients in an impressive exhibition kitchen. This is the pinnacle of haute dining in South Beach, the new "Vegas by the Ocean," so called by NYT critic Mark Bittman.
The article "Is South Beach Growing Up?" identifies
The Setai's
restaurant as "visually stunning," with "competent, and actually warm, service":
The sheer scale of the Restaurant at the Setai-- South Beach's most opulent dining spot, and perhaps one of the most interestingly and arguably perfectly designed restaurants in the world-- is astounding. An enormous courtyard is dominated by a huge reflecting pool, and there are 20-foot ceilings, domes of 500 tightly grouped roses and an elaborate array of materials used to build the minimalist but intricate walls and floors: pressed metal, carved wood, imported antique brick, slate, stone, tile and fabric. Down the hall is a strikingly long bar, whose top is mother-of-pearl.
The price tag? A mere $120 per person with the prix fixe tasting menu.
---