The New Spa Suites at Las Ventanas al Paraiso, Los Cabos, Mexico
---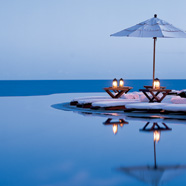 The resort and its spa have been acclaimed worldwide as the premier five-star experience in North America. And now Las Ventanas brings its clients a fundamentally new way to experience a resort spa, with is three new Spa Suites that offer a self-contained "total spa lifestyle" within the privacy of your own ultra-lavish suite.
These suites feature a dedicated Spa Butler who coordinates your personalized spa program, a state-of-the-art, in-suite treatment room, and a spa ambiance that includes organic mini-bar, magnetic mattresses, infrared sauna, Infinity-edge Jacuzzi (with a breathtaking view over the Sea of Cortez), and iSqueeze Reflexology Boots for daily foot massages. The 3,893 sq. foot suites offer two full bedroom suites (master and guest) with full baths, oversize jet tubs, living room, full kitchen, two patios, adobe fireplaces, and telescopes for whale-watching.
The individualized spa activity program-- built around health, fitness, nutrition, and beauty-- is results-oriented, with multi-faceted activities (bodywork, meditation, nutrition, facials, herbal remedies, swimming, saunas, etc.) Starting at Las Ventanas, guests achieve measured results, and then continue an at-home program for a lasting lifetime impact.
Rates for Spa Suite Programs start at $13,425 for a four-night program for two.
---

Related Hotels