The Incredible Renovation of the Royal Hawaiian, Waikiki
---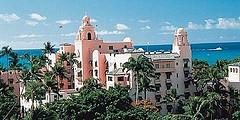 The legendary "Pink Palace of the Pacific" has temporarily closed its doors through December 31, 2008 for a complete makeover. The 528-room resort is getting $110 million in enhancements. Come January 1, 2009, the
Royal Hawaiian
will usher in a new era of luxury. After all, this is the spot where the Shirley Temple drink was invented for the visiting star, and served as the playground for Hollywood A-listers and the world's elite for many decades. The Royal Hawaiian has remained an icon of luxury, romance, and the glory and grandeur of Waikiki since its opening in 1927, and after this renovation, the
Royal Hawaiian
will be at the top of its game.
To quote the Mercury News:
The hotel's distinctive rosy exterior and eye-catching Spanish-Moorish architecture won't change. But the interior is slated for a major facelift and—gasp—will become less pink. Gone will be the pink tablecloths, pink napkins, pink towels, pink bed sheets and even the trademark pink-and-white umbrellas at the Mai Tai Bar will become history.
But don't worry. They're not getting rid of all the pink, just "accentuating the pink they have"-- while also upgrading the hotel's service, and adding hip, contemporary touches to all the rooms.
---