The Hay-Adams Hotel: The Obamas' Temporary Home in Washington D.C.
---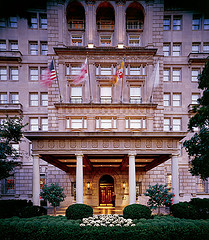 Looks like the prestigious
Hay-Adams Hotel
is living up to its reputation as the hotel of choice for visiting heads of state. A revered landmark in the nation's capital, the
Hay-Adams
is named after the distinguished residents who previously lived on its site: John Hay (Private Assistant to President Abraham Lincoln and later Secretary of State) and Henry Adams, the famous author (and descendant of U.S. Presidents John Adams and John Quincy Adams). The latest celebrity occupants? The Obamas, who have checked into the Hay-Adams before moving into the White House, so that their daughters can start classes at Sidwell.
---