The Greenbrier Files for Bankruptcy
---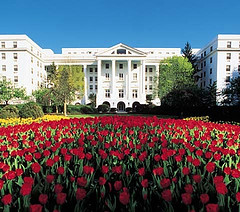 The day
has arrived
. The storied West Virginia resort
has filed Chapter 11.
A favorite hideaway for East Coasters in the scenic Allegheny Mountains,
The Greenbrier
is home to a massive underground bunker that was meant to serve as an emergency shelter for U.S. Congress during the Cold War. Boasting some 50 recreational activities, the historic-listed resort has struggled-- in recent years-- with debts, falling occupancy rates, and a labor dispute.
UPDATE: The Greenbrier may be sold to Marriott.
---