The Grand Opening of the Casino Club at The Greenbrier
---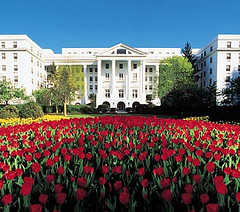 Saved from bankruptcy
,
The Greenbrier
will soon return to glory, hopes new owner Jim Justice, a West Virginia coal baron. Extensive renovations are underway in an attempt to regain a fifth star for the storied resort, which
lost its acclaim in recent years.
Justice decided to hire interior designer Carlton Varney, who owns Dorothy Draper Inc., in a nod to the designer who originally styled the resort, leaving her trademark of signature floral patterns and bold colors. The biggest change of all for The Greenbrier? The addition of a 90,000-square-foot casino.
The Knoxville News Sentinel reports on
The Greenbrier's
new era:
With the sounds of cranes and jackhammers behind him, Justice surveyed the work and discussed the massive renovation project. "It's going to be an entertainment area. It's not going to be a casino like you think of in Las Vegas or Atlantic City. It's even going to be better than Monte Carlo. I just sent a whole team of people there, and they came back and said we think we are going to be the best place in the world." There will be a strict dress code and no-smoking policy. The area will include eight mezzanine-level shops, the Twelve Oaks lounge and the Infusion Sushi Bar.
The Grand Opening of the Casino Club will take place on July 2, 2010. From the official website: "The Greenbrier is making history again! Be there when The Greenbrier unveils the grandest casino experience in the world. This celebration of epic fashions includes an entire evening of once-in-a-lifetime experiences, including a live performance by Lionel Richie."
---