The Grand Comeback of The Plaza Hotel, New York
---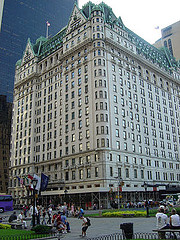 Eloise
may not like the new condos, but she'd be pleased to see her hotel back in business. Rumor has it that the fabled Plaza Hotel, New York's landmark luxury hotel, will reopen this fall to coincide with the property's 100th anniversary.
Fairmont Hotels and Resorts
has gone ahead and
announced the appointment
of the new General Manager, Shange Krige, who hails from
The Mansion on Turtle Creek
, London's historic Grosvenor House and Ritz-Carlton properties in Washington D.C.. Towering over Central Park West, the 19-storey Plaza Hotel has completed a $400 million renovation which now includes
private residences
. Those who mourned the end of an era with the hotel's closing will rejoice at the makeover. The 282 guest room and condo-hotel units have been updated for the modern traveler, but still pay tribute to the hotel's illustrious history as a treasured symbol in Manhattan.
---