The Encore: Steve Wynn Shakes Things Up in Las Vegas (Again)
---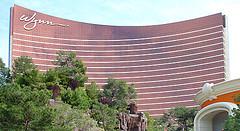 When Steve Wynn first opened his
casino-resort
on The Strip in 2005, he ushered in a new phase of glitzy, over-the-top development in Vegas.
The Wynn
boasts the Strip's only golf course, a three-acre man-made lake, a Maserati/Ferrari dealership, an upscale shopping promenade, and opulent guest rooms. And now Wynn goes
head to head with other Vegas developers
with another grandiose project, The Encore.
Here's how the New York Times recently described the project:
Later this year, Mr. Wynn, 66, will open his latest project: the $2.3 billion Encore casino resort, a fantasy land featuring 2,034 luxury suites, a glass-encased casino overlooking several pools, and penthouse baccarat tables for high rollers. The Encore is also an outsize gamble by a man who has made a lucrative, freewheeling career out of such moves, and it comes just as an economic malaise that has been seeping across the country is starting to slam the gambling industry.
Wynn is rolling the dice again, taking a gamble on this grand new resort. He's done it before, and he'll do it again. After all, this is "the man credited with changing the landscape of the Strip and bringing a semblance of class to Sin City."
---