The Cosmopolitan Las Vegas: "More Style-Driven" than Most Sin City Resorts
---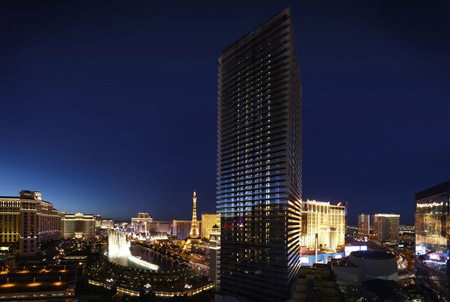 There's been a lot of talk about the newest (and trendiest) destination resort to open in Las Vegas:
The Cosmopolitan
. And not just because of its star-studded grand opening and New Year's Eve party with Jay-Z and Coldplay. This trendy new hotel boasts wow-worthy facilities that make it a
"confident competitor"
in Sin City's luxury resort market.
A recent article in The Los Angeles Times calls out
the "2,995 upscale guest rooms, 13 restaurants, gargantuan meeting rooms, three groovy pools, a light-filled casino and oodles of geek-worthy tech toys into two 50-story towers that teeter on just 8.7 acres." This hot spot is "more style-driven than most Vegas resorts,"
says the LA Times
, "aimed at young, tech-savvy couples." Imagine: relaxing in your Japanese soaking tub while gazing out on the city's bright lights and all the action on The Strip. Other stand-out features? The smartly-designed Sahra Spa & Hammam, the Boulevard Pool with its open-air stage (talk about a summertime destination!), and Marquee Nightclub. Here's the skinny about
The Cosmopolitan's
guest room decor:
The guest rooms were decorated by David Rockwell, veteran designer of the Kodak Theatre in Hollywood and several W hotels. His palette of navy, ivory and other cool neutrals ensures that the rooms are a calm counterpoint to the cacophony of the lobby, which is defined by video monitors built into tall columns. Though arriving guests are surrounded by the lobby's high-tech touches, the clerks add humanity by stepping out from behind their oversized check-in desks.
---