The Best Restaurants in Jackson Hole, Wyoming: GameFish at Snake River Lodge
---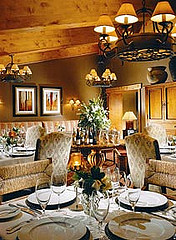 In the midst of Wyoming's rugged grandeur, situated slopeside at Jackson Hole Mountain Resort, the Snake River Lodge and Spa exudes informal elegance. Guests enjoy spectacular views of the Gros Ventre Mountain Range, recently-renovated guest rooms, and the 17,000 square foot Avanyu Spa, complete with indoor/outdoor pool, hot tubs, sauna, and treatment rooms. At the hotel's AAA four-diamond award-winning GameFish restaurant, discover distinctive Western cuisine and a comprehensive wine list. GameFish is renowned for its regional specialties like Wyoming Angus steaks, native fish, and grilled and smoked game. Savor the Porcini-dusted Wild Salmon and taste the Wild West.
Recipe for Porcini-dusted Wild Salmon
Florentine Orzo
1 lb orzo pasta
1 lb spinach
6 Roma tomatoes
4 sprigs thyme
3 cloves garlic, minced
1 cup heavy cream
2 T grated Parmesan
Kosher salt and white pepper to taste
Blanch spinach in boiling salted water for 10 seconds and place immediately in ice bath. Drain well and chop finely. Cook orzo in boiling salted water until al dente. Drain, rinse and reserve. In a small saucepan, sweat spinach in dash of olive oil. Add cream, reduce by 1/3;
add Parmesan. Just before plating, heat orzo in the cream with chopped spinach; season with salt and pepper.
Balsamic Brown Butter Emulsion
1 cup balsamic vinegar
1 lb unsalted butter
Reduce the balsamic vinegar by half. While vinegar is reducing, brown the butter over high heat until it gives off nutty aroma. When vinegar has reduced, using an immersion blender combine the brown butter to the vinegar in a slow steady stream. Reserve keeping warm.
King Salmon
4 each 7 oz salmon fillets
2 T porcini powder
1 cup all-purpose flour
1 cup olive oil
Combine the flour and porcini powder. Season and dredge the salmon in the flour mixture. If porcini powder is not available, grind dried porcinis in a spice grinder to achieve same results. In a large saute pan, heat 2 T of olive oil. Place the salmon in the pan and brown. When one side is browned, flip and place into a 375 degree oven for 5 minutes. (Depends on thickness of fillets and preferred temperature of salmon.) To plate, place equal parts of Florentine orzo on 4 plates, arrange salmon, then spoon balsamic emulsion around the salmon.
Serves 4.
---