The Bay Area Arts Scene: Oakland Art Museum Gets Redone
---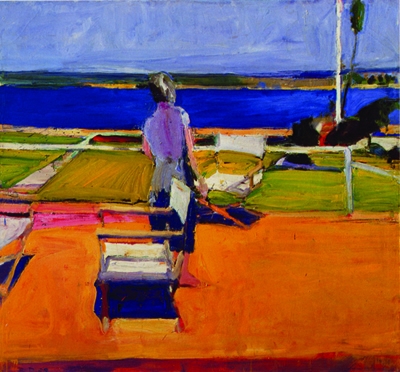 The
San Francisco
area is one of our favorite destinations, especially when it comes to exploring cultural sites.
So we were thrilled when
we heard that the acclaimed 
Oakland Museum of California
 has just been completely reconstructed.
What's changed, you ask? According to museum officials, "California's landscape, people and fertile creativity are showcased in innovative interdisciplinary, interactive exhibits with high-tech extras."
Amidst established favorites, such as the works of Arthur and Lucia Mathews, new galleries now showcase contemporary works, such as Trevor Paglen's 2008 color photograph of swirling satellites and Hank Willis Thomas' "White Imitates Black."
We're also enamored of the work pictured here, Richard Diebenkorn's Figure on a Porch.
The museum will stay open until 8 p.m. on Thursday and Friday, and 9 p.m. on the second Friday of each month.
If you're staying in San Francisco, consider one of these three luxury hotels: The Ritz-Carlton, The Four Seasons and The St. Regis. For more information, visit www.museumca.org.
---