The Art of Celebrity Living at the Alexis Hotel, Seattle
---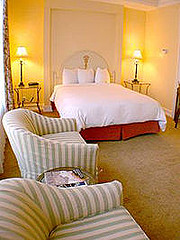 Listed on the National Register of Historic Places, the Alexis Hotel is a luxury boutique hotel as committed to its history as it is to the contemporary Seattle arts scene, displaying original pieces throughout the guestrooms and public spaces. The Alexis offers elegance mixed with a lot of whimsy smack dab in the middle of it all in downtown Seattle. Guestrooms also feature beautiful antiques, wood burning fireplaces, and two person tubs. The Library Bistro is known as one of the best restaurants in Seattle-- its ambience reminiscent of a 1940s supper club with faux lizard skin high back booths and dramatic lighting, and serving new American cuisine with an emphasis on locally grown vegetables and fresh seafood. Now at the Alexis Hotel, enjoy "The Art of Celebrity Living, Seattle Style," featuring a weekend of pampering and sampling of the city's hot art scene with the centerpiece, a chartered helicopter trip to a concert at The Gorge Ampitheatre, the top outdoor concert venue in the United States.
Here's the skinny:
Arrive via chauffeured limousine; accommodations for two in luxuriously appointed suite complete with a gorgeous floral arrangement, a pair of emerald earrings from Turgeon-Raine Jewellers, and a local eyewear boutique will pay you a visit with a selection of "rock star" designer sunglasses to choose from; following a scrumptious breakfast in bed, you will have your choice of "Seattle Style" experiences: a private glass blowing class, coupled with your choice of either a private art gallery tour led by Barbara Shaiman (the Alexis' own art curator) or a behind-the-scenes tour of the acclaimed DoubleTake fine art exhibit at the Experience Music Project (EMP); take a chartered chopper for a trip over the Cascade Mountains to attend a concert at The Gorge Amphitheater, arriving just in time for sunset; the Alexis' executive chef, Tim Ferguson will prepare a special "Cristal and caviar" picnic dinner for you to enjoy during the concert; finish off this rock-star weekend with a mimosa brunch at the Alexis' Library Bistro; as a special memento, the complete Alexis bedding set will be shipped to your home along with a CD collection of the artist you've just seen at The Gorge.
The Art of Celebrity Living package is priced at $10,000 and is valid until September 3, 2006.
---

Related Hotels