Terra: Best Restaurants in Napa Valley, California
---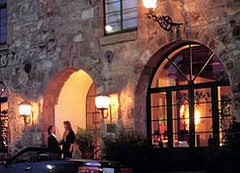 Michelin-starred
Terra
is one of the finest restaurants in Napa, if not the entire country. At the
recent James Beard awards
, Terra nabbed the award for the nation's best restaurant service. And the wine list-- according to Zagat-- is the third highest rated in the entire SF bay area. Here's the full Zagat scoop:
Hiro Sone's "quiet" St. Helena "oasis" of "fine dining", proffering "restrained service","excellent wines, of course", and "innovative", "eclectic" New American fare that "blends" "classic European country food with an exotic Asian touch" "looks and feels like a grown-up restaurant, not a trendy, flash-in-the-pan spot du jour"; the "amazing" dishes aren't "overdone" and the "intimate","romantic", century-old fieldstone foundry is just the place "to enjoy it all"; little wonder "local foodies" maintain it's "impeccable in every way."
Good news for foodies visiting San Fran (or for those lucky souls who actually live in the City by the Bay): Sone and Doumani also own Ame restaurant in the swanky St. Regis Hotel in SOMA.
---