Talk of the Town: The Pierre Hotel's Opening Party
---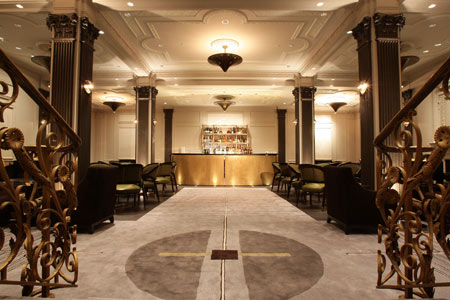 The Pierre
threw a big opening party this week that drew quite the celebrity crowd. After
a major makeover
, the Fifth Avenue flagship of Taj Hotels is back on top.
As described by The New York Times,
"The evening was the first of what the Taj hopes will be many notable events, bringing new life and relevance to the signature hotel. Or as the giant words projected on the wall declared: 'Pierre, Again.'" Among the guests? Tina Brown, who made a "brief appearance at the top of the cocktail hour, creating a buzz among the hotel's publicists about a possible new travel component to her Web site, The Daily Beast." And in fact,
The Daily Beast conjured up
the
hotel's
glory days in a piece posted on the site:
Boasting grand views of Central Park from Fifth Avenue and 61st Street, the famed Pierre hotel of New York has reopened to indulge its guests and residents—who have included Elizabeth Taylor, the late designer Yves Saint Laurent, and even the Kennedys. The 714-room hotel was built for $15 million in 1930 and quickly joined the pantheon of grand New York City locales upon its opening. Backed by Wall Street financiers and the vision of Charles Pierre Casalasco, the European-style hotel contained upper floors modeled after the Chapel of Versailles, and its signature room, the Rotunda, contains famous floor-to-ceiling trompe l'oeil murals by American artist Edward Melcarth.
---