Take a Recess from the Recession: Morgans Hotel Group Confirms Economic Recession
---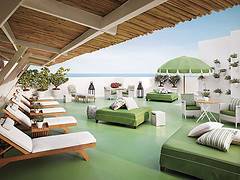 As if we couldn't figure it out on our own,
Morgans Hotel Group
has launched an aggressive marketing and advertising campaign to tell us that yes, indeed, there is a recession. Duh, dudes.
"This campaign is aimed at reminding our customers that the best way to deal with something unpleasant -- whether it's a recession or something else -- is with defiance and optimism," said Scott Williams, Morgans Chief Marketing Officer. "We've chosen strong language to make this point; and, although it may take some people off guard, it's what a lot of our customers are thinking right now."
There's more:
The campaign begins with the attention-getting headline "F@*% the Recession" and introduces the concept of turning a negative into a positive with RecessIsOn.
Reminding folks about the recession will no doubt inspire them to check into a Morgans hotel like the Delano in South Beach (pictured at right). For more info, check out their website.
---