Take Mom to Miami for Mother's Day Pampering at Fontainebleau
---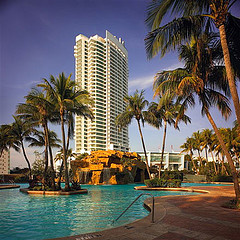 Leave it to
Fontainebleau
-- the glamorous hotel that reopened in 2008 after a $1 billion renovation-- to spoil moms with endless treats on Mother's Day. The Miami landmark has incredibly decadent amenities: 1,504 new guestrooms and suites outfitted with iMacs; 11 restaurants and lounges; two happening nightlife spots; the 40,000-square-foot Lapis spa; and the sprawling pool area facing the ocean. Take advantage of the "Suite Deal for the Sweetest Mother" and give mom a weekend getaway on the beach. From Thursday, May 6th through Tuesday, May 11th,
Fontainebleau is offering a special rate
of just $229 for a standard room and $379 for a one-bedroom suite. What's more- the oceanfront resort will be hosting a sumptuous brunch at
Gotham Steak
, Chef Alfred Portale's modern American steakhouse. Indulge in "a feast fit for the queen of your world"; think sushi stations, seafood displays, carving stations, cheese and charcuterie, made-to-order eggs, and delicious desserts. Priced at $75 for adults with unlimited mimosas. Give mom the gift of a day-long retreat at Lapis Spa with the "Mother's Day Off" package which includes a Speedy Yet Effective Facial, Lapis manicure and pedicure, use of Lapis' rejuvenating water therapies, and access to the gym and Fontainebleau's pooldeck for the day for just $144.
---