Summer Specials: Make Like a Celeb and Stay at The Setai, South Beach
---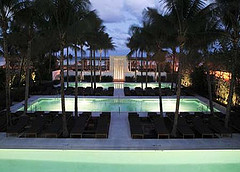 The Setai
-- Adrian Zecha's droolworthy masterpiece on the Miami scene-- usually goes for upwards of $1000 a night. A celeb magnet, The Setai sets the standard for South Beach oceanfront resorts with rooms that simply ooze luxury: espresso machines, in-room bars, Bose surround-sound DVD/CD systems, deep soaking tubs and rain showers, and flat screen LCD and plasma TVs. Madonna's pick? The 10,000 square foot penthouse with its rooftop pool and sweeping views of the Miami skyline. Right now you can take advantage of a stellar summer promotion,
"The Setai Summer Escape"
, and get a room for just $550 a night. (Available through October 31, 2010; black-out dates may apply.) Now's the time to splurge on an over-the-top getaway you won't forget.
---