Stay at a Resort for Competitive Hotel Prices: Loews Lake Las Vegas is a "Resort" No More
---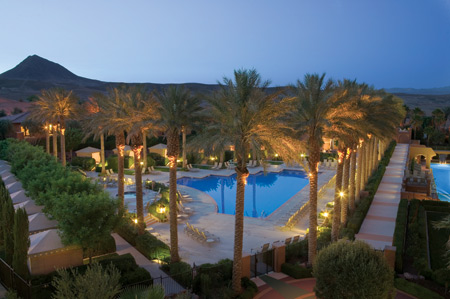 As reported by the
Wall Street Journal
, more and more properties are dropping "resort" from their names as a result of the "AIG effect." The stigma remains for businesses to hold events at seemingly lavish resorts so companies are being very conscious when choosing sites for conferences. In response to the trend, properties are changing their names. This is good news for guests who get to partake in the luxurious facilities without doling out the dough. Case in point:
The Loews Lake Las Vegas
(formerly with "resort" attached to the end of the name) boasts a golf course, lavish spa, swimming pools galore, and even
gondola rides
on Lake Las Vegas. To quote the
Wall Street Journal
:
Other than the name-dropping, little else has changed... Those at the Loews Lake Las Vegas—a resort no more—aren't deprived of the property's "white-sand beach" on the lake nor master sushi chef Osamu "Fuji" Fujita's culinary creations.
Best part of all: room rates are wholly affordable, averaging $160 per night.
---