Spend the Night at the Guggenheim: "Revolving Hotel Room" Installation Welcomes Guests
---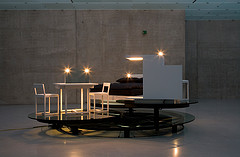 Starting October 24th, visitors can snag a room at the
Guggenheim
. The museum will even hook you up with towels, robes, slippers, and bath amenities.
Just like the one-room hotel that opened for museum guests at the Palais de Tokyo in Paris
, the Guggenheim has opened its doors to paying overnight guests. The upcoming group show,
entitled "theanyspacewhatever,"
allowed artists to really lay claim to the exhibition space. Lo and behold: Brussels-born Carsten Holler who's created the "Revolving Hotel Room" art installation. Rumor has it that fashionista Chloe Sevigny has already booked a night's stay.
Here's the skinny from the New York Post:
For up to $799 a night, two guests can privately snuggle in the artwork itself - a luxury double bed with a wet bar mounted on one of four revolving glass discs that makes a complete rotation every two hours. Better yet, they can roam the museum alone all night in their jammies... It's partly funded by the Waldorf-Astoria, so for the slumber partiers there's room service. A breakfast of croissants and coffee will be served in bed - but before the 8:30 a.m. checkout time, because housekeeping needs to tidy up before the museum's doors open at 10 a.m. Bathrooms and showers are available, too.
Alas, it appears "Revolving Hotel Room" is already booked solid.
---