Special at St. Regis Hotel Washington DC: First Ladies, American Style at the White House
---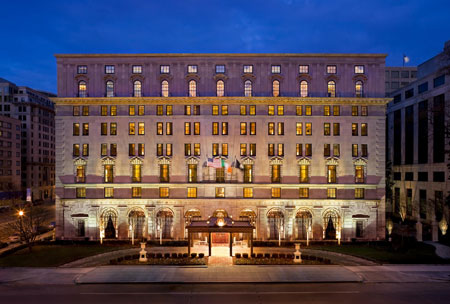 A new package at the posh
St. Regis Hotel
in Washington D.C. has tongues wagging. Where better to and
"play First Lady"
than at this elegant icon, located on K Street just two blocks north of the White House? (With the Alain Ducasse-helmed Adour Restaurant and personalized service through the St. Regis butler program, this hotel is totally "presidential.") Here's
the skinny from HotelChatter
on the offer, available on Thursday, Friday, and Saturday nights:
Forget the Real Housewives! We want to live it up like a First Lady. So if we can rustle up the $509 a night necessary, here's what we'd choose to do over being tacky and crashing a White House party... If we booked this offer, we would:

· Sleep in the posh Caroline Astor Suite at the St. Regis

· Nosh on breakfast in bed -- on dishes inspired by First Ladies (We'd probably opt for Lady Bird Johnson's beef tenderloin and eggs over Laura Bush's favorite carrot muffins)

· Throw back complimentary cocktails for two at The Bar at The St. Regis

· Take a private guided tour of the First Ladies at the Smithsonian exhibition over at the National Museum of American History

· Ooh and ahh at the sight of Michelle's Jason Wu dress and anything Jackie Kennedy ever touched

· Take home our welcome amenity/memento from The National Museum of American History

· Realize that we were not cut out to be a First Lady or political wife of any kind ...
---