Space Tourism: Sir Richard Branson Unveils New Tourist Spaceship Today
---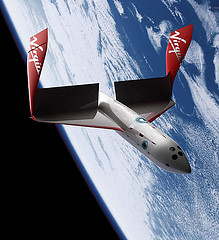 Virgin Galactic
will be unveiling its new tourist spaceship
today
with Sir Richard Branson on site in the Mojave desert to talk about his pet project. For a mere $200,000 a pop, tourists will soon be able to go for a cruise through outer space. Test flights for SpaceShipTwo will begin next year, with commercial flights starting in 2011 or 2012.
The New York Times reports
that "Virgin Galactic, owned by Mr. Branson's Virgin Group and Aabar Investments of Abu Dhabi, says about 300 people from around the world have paid a total of $40 million in deposits to guarantee spots on the carbon composite aircraft."
Related Articles:
The Galactic Suite Space Resort: The First Hotel in Space to Open in 2012
---