Spa Trends: "Spadominiums" from Miraval Living and Canyon Ranch
---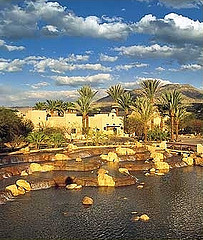 In today's article "Living in Zen: The Spa Life, 24/7" the NYT identified the latest trend in lifestyle community living: "spadominiums" brought to you by Miraval, the Tucson-based destination spa, and Canyon Ranch, its chief competitor. Spa lifestyle communities have been springing up rapidly across the country in recent years; most of them are second-home condos at destination resorts. But now Miraval and Canyon Ranch are creating condominium projects in major cities to help foster a balanced urban life dedicated to wellness and healthy living.
Beginning in early 2008 those who choose to relocate to 515 East 72nd Street will be able to experience Miraval's spa, fitness, nutrition and general wellness programming from the comfort of their own high-rise condominium homes. The project will be known as Miraval Living; the company is billing it as New York City's first "inspired living residence" and the first of what John Vanderslice, the chief executive, said would be 10 to 15 similar developments in the next decade in cities including Los Angeles, San Francisco, Chicago, Miami and Washington.
Canyon Ranch has similar spa-living condos under development in Miami and Chicago.
Related Articles:
Dr. Andrew Weil Presents Healthy Aging at Miraval, Life in Balance, Resort
---