Southwestern Food and Drink at Staab House Lounge at La Posada de Santa Fe
---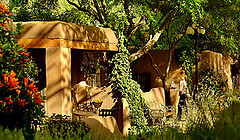 A magnet for foodies and artists, the picturesque town of Santa Fe, New Mexico brims with history and culture. After checking out the art galleries and lovely boutiques, head to
La Posada de Santa Fe
, an award-winning resort comprised of adobe-style accommodations and kiva fireplaces nestled in lush gardens. Come evening, stake a claim to a seat by the fireplace at the resort's historic Staab House, a casual and cozy eatery/lounge which serves up cocktails and Southwestern bistro fare. On weekends, you'll also enjoy live music.
Travel + Leisure
sings its praises:
At Santa Fe's altitude (7,000 feet!), even summer nights can be cool enough to warrant sitting by a hearth at La Posada de Santa Fe's Staab House Lounge, a warren of wood-paneled rooms with overstuffed chairs and a resident ghost, or by the outdoor fire pits in the romantic courtyard.
PS. The resort is offering a "Leap Year Package" throughout the year of 2008, so you can get a fourth night free when you pay for a three-night stay.
---