Savings in San Francisco at the Clift Hotel
---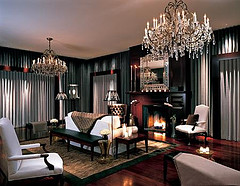 The Clift
hasn't lost its cool. San Francisco's uber-hip hotel is still the place to be, thanks to the legendary
Redwood Room
where hipsters gather to ogle the digital art exhibitions. The Philippe Starck-designed "wonderland for the jetset" is located just a few blocks from Union Square in downtown SF.
Travelzoo's touting an offer
that's almost too good to be true: a breakfast package for $150 for rooms that usually go for $300. The bad news? They're only available for a few nights-- December 23- 27, 2007-- and with such slim pickings, they may already be sold out. The good news? Right now there's a bunch of special offers at the
Clift
, including a
Holiday Shopping Package
which includes complimentary valet parking and special offers at Bloomingdales, Ted Baker and Ben Sherman, from just $235
ANY
night until January 8, 2007.
---