Sarah B. at InterContinental Montreal: First Absinthe Bar in North America
---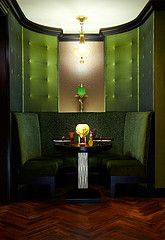 As part of a swanky renovation in 2009, the
InterContinental Montreal
unveiled an absinthe bar- the first in North America. Taking its name from the legendary French stage actress, the divine Sarah Bernhardt,
Sarah B.
serves up that potent herb-based spirit, called the "Green Fairy" by the 19th century writers and artists who were creatively inspired by the libation. The bar itself is a mysterious and intimate space with fireplaces and green banquettes. Indeed, legend has it that Sarah Bernhardt's spirit haunts the vaults of the hotel, as she traveled to Quebec in 1880 and performed in the historic Nordheimer building, now an integral part of the
InterContinental Montreal
.
---