Rub the One You're With: Massage Instruction Class in Your Room at Kimpton Hotels
---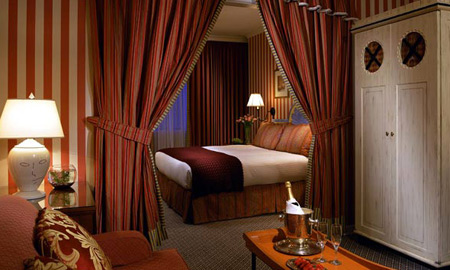 Kimpton Hotels definitely deserves props for their creative amenities and perks. Hosted evening wine hours, a pet-friendly hosPETality program, honor bars with unique items like Astronaut Ice Cream (at the
Hotel Marlowe
in Cambridge), oxygen (at the
Sky Hotel
in Aspen), and organic teas and Clif Bars (at the
70 park avenue hotel
in New York).
The latest?
A massage package called "Rub the One You're With," available from February 1 - March 31, 2010, which allows couples a hands-on way to pamper their partner for Valentine's Day. You'll get a how-to-massage instruction class with a personal massage therapist in the privacy of your own room. Also included with the package: deluxe accommodations, a welcome bottle of Champagne, complimentary overnight parking, and a take-home massage kit featuring Kerstin Florian organic lavender massage oil, lavender & lemon aromatherapy candle and aromatherapy bath salts. Rates vary by hotel. Participating properties include San Diego's
Hotel Solamar
,
San Francisco's Palomar
, Nine Zero
in Boston, New York's
70 park avenue hotel, Hotel Monaco Portland
, and
Hotel Monaco Seattle.
---