Pumpkin Cheesecake Recipe from the Chef at Fairmont Washington D.C.
---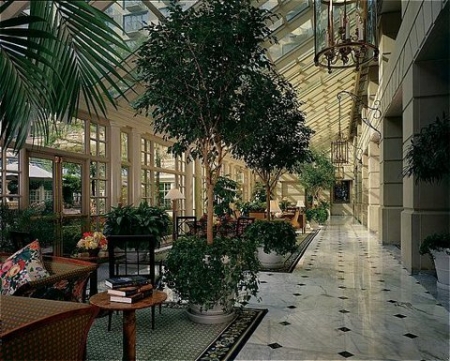 Hotels are jumping on the Social Media bandwagon, some even paving the way with innovative new ideas. Case in point:
"Everyone's an Original" from Fairmont Hotels
, a site which combines interactive design and social media to gather Fairmont experiences and stories from their guests. What we gleaned from the site today:
a yummy recipe for Pumpkin Cheesecake
from Jason Dalling, Executive Chef at the
Fairmont Washington DC.
Ingredients (Yield: 1 x 9" Cake Pan)
Cheesecake
• Cream Cheese - 390 grams
• Sugar - 146 grams
• Corn Starch - 16 grams
• Sour Cream - 162 grams
• Cream - 67 grams
• Pumpkin - 214 grams
• Eggs - 114 grams
• Ginger - 1/8 Tablespoon
• Cinnamon - 1/8 Tablespoon
• Nutmeg - 1/4 Teaspoon
Preparation (Prep Time: 20 minutes Total Time: 1 hour and 20 minutes)
• Mix sugar and cornstarch, add cream cheese and mix until smooth. Scrape the sides of the bowl often
• Add sour cream, cream, eggs, pumpkin and spices. Mix until fully combined
• Bake in a 9" pan with a graham cracker base. Use a water bath and bake at 275 degrees fahrenheit for 45 minutes - 1 hour
---