Presidente InterContinental Cancun Resort Re-opens
---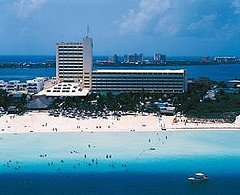 After the tragic mess left by Hurricane Wilma, Cancun is slowly making a comeback. The Presidente Intercontinental Cancun Resort has recently reopened, with some profound improvements. They've renovated each guest room and suite, revamped the Club Floor, redesigned the lobby, enlarged the pool, added a new oceanfront bar with nightly live music, and added a new open air restaurant. Not to mention a wider (and whiter) beach. Actually, as the hotel explains:
due to its privileged location, added more than 15 feet of additional frontage to its spectacular private beach, one of the largest and most beautiful in Mexico and featured as one of the "World's Best Beaches" by the Travel Channel.
Forget the spring break hordes (they're all in Key West and Panama City, anyway); now's the time to head south of the border.
---

Related Hotels