Power Dining in Washington at Cafe du Parc
---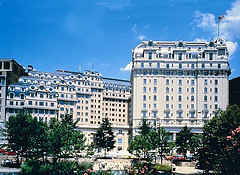 For a little piece of Paris without hopping on a jet, head to the nation's capital, where the
Willard InterContinental Hotel
attracts a mix of business patrons, tourists, locals, and power diners to its
Cafe du Parc
. Landing a spot near the top of
Washingtonian Magazine's
"100 Very Best Restaurants,"
Cafe du Parc
gets praise for the "area's best mussels, classic steak tartare, and the terrine of veal, pork and foie gras cooked with wine and Armagnac and swaddled in crispy pastry." And there's more: "French bistro cooking full of technical rigor and subtle artistry. Pulling the strings, mostly from afar, is consulting chef Antoine Westermann, who earned three Michelin stars for his Strasbourg restaurant and also runs two superlative Paris cafes." Since it's open for breakfast (and serves up steaming hot brioche and freshly baked croissants aux amandes), the
Cafe
is a hotspot for power diners, especially since the White House is a mere two blocks away. This year
Cafe du Parc
 has embarked on a celebration of its traditional French bistro roots with new regional dishes at lunch and dinner that commemorate different regions of France. First up: Normandy (until April 20). Followed by the region of Provence starting on June 21, the first day of summer, until July 31. This fall, the restaurant will celebrate the gourmet cuisine of Aquitane from September 23 through October 31 and end with a month-long tribute to Brittany from December 1 through the 31.
---